Winners of 64th National Film Awards 2017 were Announced on 7th April
Finally the much awaited list of very prestigious National Film Awards 2017 winners was announced this morning at the National Media Center in New Delhi. The process to select the best from Indian cinema (2016) began in March. Renowned filmmaker Priyadarshan was the chairperson of jury in feature films category and nationally acclaimed cinematographer and writer Raju Misra was the chairperson of jury in non-feature films category.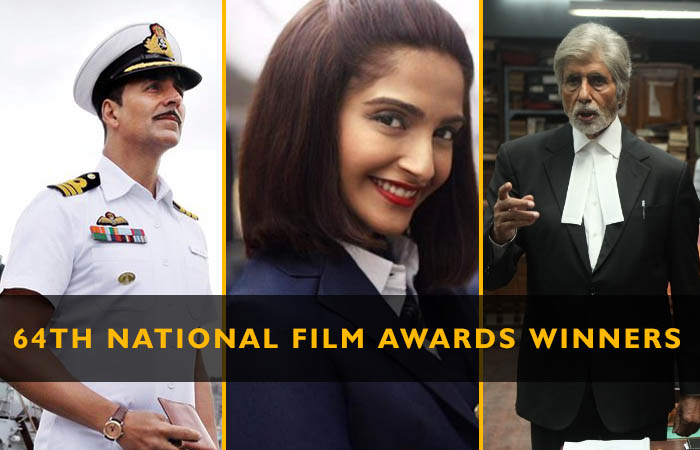 In the 64th National Film Awards, Sonam Kapoor starrer & Ram Madhvani's directorial Neerja that was based on the real life of brave heart Neerja Bhanot was declared as the best Hindi feature film. Superstar Akshay Kumar who hardly gets awards, won the best actor award for his excellent performance in film Rustom & Airlift (Priyadarshan cleared this later).
Sonam Kapoor also got a special mention for her performance in Neerja, along with Adil Hussain for Mukti Bhawan and Maj Rati Keteki. Superstar Ajay Devgn's very ambitious venture as an actor & director, Shivaay won the award for best VFX. While the megastar Amitabh Bachchan & Taapsee Pannu starrer critically acclaimed Pink was adjudged as the best film on social issues.
Here's the complete list of 64th National Film Awards' winners (Feature Films Category):
Golden Lotus
Best Director- Rajesh Mapuskar (Ventilator Hindi)
Best Animation Film- 'Mahayoddha Rama' (Hindi)
Best Children's Film- 'Dhanak' (Hindi)
Best Popular Film Providing Wholesome Entertainment- 'Sathamanam Bhavathi' (Telugu)
Indira Gandhi Award for Best Debut Film of a Director- 'Alifa' (Bengali)
Best Film- 'Kasaav' (Marathi)
Silver Lotus
Best Actor- Akshay Kumar (Rustom & Airlift Hindi)
Best Actress- Surabhi C.M (Minnaminungu – the Firefly Malayam)
Best Supporting Actor- Manoj Joshi (Dashakriya Maratahi)
Best Supporting Actress- Zaira Wasim (Dangal Hindi)
Best Child Artist- Adhish Praveen (Kunju Daivam Malayalam), Nur Islam and Samiul Alam (Sahaj Pather Gappo Bengali), Manohara. K (Railway Children Kannada)
Best Hindi Feature Film- 'Neerja'
Best Moran Feature Film- 'Haanduk'
Best Tulu Feature Film- 'Madipu'
Best Tamil Feature Film- 'Joker'
Best Gujarati Feature Film- 'Wrong Side Raju'
Best Kannada Feature Film- 'Reservation'
Best Telugu Feature Film- 'Peli Chuplu'
Best Marathi Feature Film- 'Dashakriya'
Best Malayalam Feature Film- 'Maheshinte Prathikaaram'
Best Konkani Feature Film- 'K Sera Sera – Ghodpachen Ghoddtelem'
Best Bengali Feature Film- 'Bisorjon'
Best Assamese Feature Film- 'Maj Rati Keteki'
Best Film on Social Issues- 'Pink' (Hindi)
Best Film on Environment Conservation/Preservation- 'Loktak Lairembee' (Manipuri)
Nargis Dutt Award for Best Feature Film on National Integration- 'Dikchow Banat Palaax' (Assamese)
Best Male Playback Singer- Sundharayyar (Joker Tamil– Jasmine E)
Best Female Playback Singer- Iman Chakraborty (Praktan Bengali– Tumi Jaake Bhalo Basho)
Best Lyrics- Vairamuthu (Dharma Durai Tamil– Entha Pakkam) and Anupam Roy (Praktan Bengali– Tumi Jaake Bhalo Basho)
Best Screenplay (Original)- Syam Pushkaran (Maheshinte Prathikaaram Malayalam)
Best Screenplay (Adapted)- Sanjay Krishnaji Patil (Dashakriya Marathi)
Best Dialogues- Tarun Bhascker (Peli Chuplu Telugu)
Best Editing- Rameshwar (Ventilator Marathi)
Best Audiography- Jayadevan Chakka Dath (Kaadu Pookkunna Neram Malayalam) and Alok De (Ventilator Marathi)
Best Special Effect- Naveen Paul (Shivaay Hindi)
Best Choreography- Raju Sundaram (Janatha Garrage Telugu)
Best Action Director and Stunt Choreography- Peter Hein (Pulimurugam Malayalam)
Best Cinematographer- S. Thirunavukarasu (24 Tamil)
Sound Designer- Jayadevan (Kaadu Pookkunna Neram Malayalam)
Best Production Design- Subrata Chakraborthy, Shreyas Khedekar & Amit Ray (24 Tamil)
Best Costume Designer- Sachin Lovalekar (Cycle Marathi)
Best Make Up Artist- NK Ramakrishna (Allama Kannada)
Best Music Direction- Babu Padmanabha (Allama Kannada)
Special Jury Award- Mohan Lal (Munthirivallikal Thalirkkumbol, Janatha Garrage and Pullimurugan)
Special Mention
Kadvi Hawa (Hindi)
Mukti Bhavan (Hindi)
Mukti Bhavan (Hindi)- Adil Hussain
Maj Rati Keteki (Assamese)- Adil Hussain
Neerja (Hindi)- Sonam Kapoor