Upcoming Releases (27 March 2015)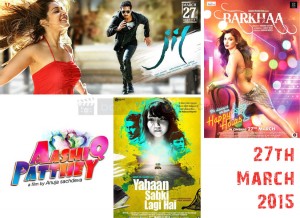 As the month of March did not seemed so fantastic and lucky for the films that released considering the box office collections or response, it is being seen that the coming Friday may again prove to be a platform for small many awaited and joyful movies, so this Friday will be great for small films that are releasing this week and might perform with no biggie around.
Now let's have a look on the movies releasing this Friday on 27 March 2015-
Jil- Jil (Jill) is the upcoming Telugu film releasing in the last week of March on 27th. It features established names like Gopichand and Rashi Khanna as the lead roles along with some other supportive characters. The film has been directed by debut director Radha Krishna. It will be good to see Gopichand again in some unique character.
Yahaan Sabki Lagi Hai- This dramatical or satirical comedy film is also up to release in last week of March along with some other movies like Jill, Barkhaa. This comedy flick has been directed by Satavisha Bose and Cyrus Khambata music has been given by Pankaj Awasthi. Featuring Varun Thakur, Eden Shyodh &o ther such non popular names as lead roles it is a decent option for audience to see a light morale entertainer.
Barkhaa- Barkhaa is an upcoming Bollywood low budget romantic flick that has been directed by Shadaab Mirza and produced by Shabana Hashmi. Featuring not so famous leads like Sara Loren, Taaha Shah, Priyanshu Chatterjee and Shweta Pandit, it is a beautifully shot movie with normal theme and story. Music has been given by Amjad – Nadeem and will hit screens this Friday.
Aashiq Patthey- After a fair long time a Punjabi comedy cum drama flick will be seen in a totally different manner with name Aashiq Patthey. It is a Punjabi movie with entertaining cast and story but still not too high on public craze. This film has been directed by Anuja Sachdeva and is releasing this Friday.
It seems that the coming last week of March will be a package of many fresh small budget films with different stars and stories and from different film industries. Now it would be interesting to see that which movie audience enjoys most or all fails to entertain the audience.
Note: Release dates are mentioned as per the official announcements, these may get changed or postponed.